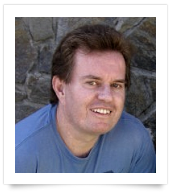 From: Stephen Carter
Re: Advanced Tracking With Prosper 202
I have an important question I'd like to ask you.
The answer to it might not only help you save a TON of money. It might just put ALL your marketing endeavors on the road to long-term profitability.
But first I want to tell you about a friend of mine. That's because his story can teach us a very important lesson. It will also put my question into vivid relief.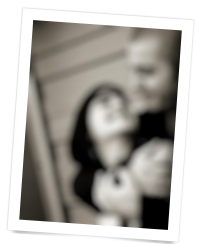 I'll call him
Mr. H
- for "hardcore" marketer. I am keeping his identity private for now, but you can be assured that he is a real person with a wife, kids, and all the dreams for his family that the rest of us share.
Mr H. is
one very smart dude
.
He needs to be, because he spends upwards of
$500,000 each month
on paid traffic. When you play the game at this level, you have to have your wits about you. And you
absolutely
need to be tracking every aspect of your ad campaigns.
I'll have more to say later about how Mr. H has been able to track his way to the extraordinary level of success he enjoys today.
But on a recent campaign Mr. H got it wrong. He got sloppy with his tracking and scaled up his advertising budget before he had properly figured out whether or not his traffic source was really making him money.
The result? He
lost $30,000
before he noticed what was going on.
Now, you might not be anywhere close to being able to outlay daily what Mr. H does on his campaigns. But I'm guessing you wouldn't mind being able to do it somewhere down the line. Either way, my question today is just as applicable to you as it would be if I were to ask it of Mr. H.
And it is this:
How much money are you just THROWING AWAY EVERY DAY simply because you don't know how to track your losses and ELIMINATE them?
Don't worry if you don't know the answer to this question just yet. It's unlikely you would be reading this page if you did.
It is a question that has haunted marketers
for at least a century
. Especially those who depend on paid advertising for their traffic.
You've probably heard more than a couple of people recite the following well-known line:
"I know half my advertising is wasted - I just don't know which half."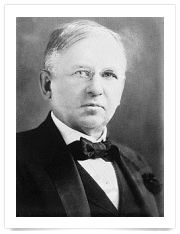 The quote is attributed to
John Wanamaker
, a 19th century US store merchant considered by many to be the father of modern advertising.
Wanaker made his famous remark long before the first Model-T rolled off the Ford assembly line.
The world has changed a lot since Wanaker's time, and if only half of your ad budget never produced a return you might even be able to ignore tracking altogether and still make a profit.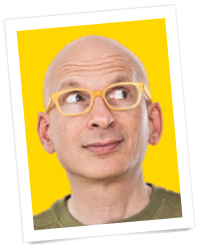 The trouble is, the reality of advertising today is probably more in line with what
Seth Godin
has to say on the subject:
"Actually, it's closer to 1 percent of your advertising that works, at the most."
If what Seth says is correct, is it any wonder then that the marketers who
don't make the effort to track what works
and what doesn't in their advertising campaigns never see the REAL money to begin to flow?
And then there are the OTHER guys.
Guys like Mr. H who are
absolutely killing it
with their marketing campaigns because the insight they gain from tracking allows them to extract 5 TIMES or more the return for the SAME amount of traffic that you are driving. Yes, Mr. H makes mistakes too. But those are exceptions, not the rule.
In fact, for these other marketers tracking is almost a religion.
And they don't just know how to track. Like I said, these guys know how to use the information derived from their tracking solutions to
optimize their campaigns
with a vengeance.
But it's nothing you can't do too. In fact, in Volume #4 of "Advanced Tracking With Prosper 202"
I'll teach you
to do exactly what it is that Mr. H and those other guys are doing.
Now that you know the score, I have a SECOND question for you...
Who would you prefer to be - a modern day version of the Wanaker HEAD SCRATCHER, or a Godin REALIST with the know-how to TRACK your way to guaranteed profitability?
Obviously you want to be that second guy. The real question is
what does it take
to be able to track campaigns to the extent we are talking about?
Because tracking isn't easy.
I
wish
it was. Because then I could insert reassuring claims into this page like
"You won't believe how EASY this is to do!"
or the classic
"Trust me, if I can do this, ANYONE can..."
Honestly, if that was the case I'd have named my 4-volume series "Tracking For Dummies". I would not have even bothered to mention
Prosper 202
in the title because everything I had to tell you about how to track would apply no matter which tracking application you decided to use.
But real tracking does not work that way. You have to choose a tracking application and master it.
And of course each piece of software has its own pluses and minuses, and every one of them has a learning curve associated with it.
You need to come to grips with the way subids are defined, how they are handled by the application, what effects
your decisions
about how to record conversions affect the reliability of the way they are detected, and so on...
So the very first question you should be asking yourself is why would I settle on THIS particular application - Prosper 202 rather than CPVLab or something else?
Why would I admit right up front that I am going to be providing you with an
advanced perspective
on the art of devising tracking solutions rather than lead you to expect that the strategies I cover will be
push button simple
the way we would often like life to be?
My answer is that the application has THREE things going for it:
Prosper 202 is "pretty good" software. It's FREE. And if the thought of using your BRAIN to solve tricky problems does not scare you, you really can track ANYTHING with it.
That last bit might surprise you. About being able to use Prosper 202 to track virtually any funnel you care to specify.
Prosper 202 is certainly NOT known for it's tracking flexibility.
Nonetheless, it is
HIGHLY adaptable
. And you will be able to see why this is true by the time you reach the end of this page.
I'll tease you with a funnel that is revealed in all its glory in Volume #4 of the series and which simply does NOT appear to be trackable given the commonly-perceived limitations of Prosper 202. But it is trackable. EVERY funnel is, and
I'll reveal the key
to understanding how this could be...
My guess is that you have probably already installed Prosper 202 and watched one or two tutorial videos on how to set up campaigns.
But you did not find what you were
really looking for
- that one source of reference material that went to the CORE of what tracking with Prosper 202 is all about. I know that I could not find it.
So I did the next best thing. I used my experience as a software developer to study the way Prosper 202 works. Not all of it. Not even one percent of it. Just the critical parts, so that I could devise a
concise mental framework
that would allow me to understand what can and what cannot be done with the software.
I have already hinted at the
pictorial expression
of this framework with the schematics of the conversion process shown above.
That's the very first thing you'll learn when you begin your journey into tracking with my series.
In Volume #1 - The Mechanics Of Event Tracking - I'll teach you the same SIMPLIFIED WORKING MODEL of Prosper 202 that I use to solve the toughest tracking problems.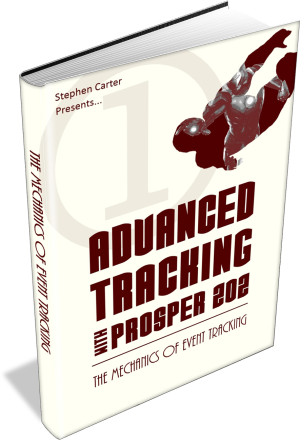 There's a very good chance that the SOLE reason you came to this page was to learn what is conveyed in this first volume - whether you realize this or not.
That's because having the right framework in place is absolutely critical to doing good work in any field. Whether it involves rendering a tracking solution or, say, a piece of art.
For instance, take
Michelangelo
.
Everyone remembers the end result of his work on the Sistine Chapel.
The unworldy frescoes that allowed people walking in off the street to look up and see not a church ceiling, but a portal to the next world.
But who recalls that Michelangelo first had to construct a
unique scaffolding system
that would allow him to paint the intricate curved surfaces of the ceiling?
Sure, I am talking about an actual
mechanical
framework here because it is easy to visualize. But Michelangelo also had to
devise mental frameworks
to work from too, so that he could paint human figures on a curved ceiling and still have them appear in the proper perspective when viewed from the ground. Frameworks precede mastery in every field of human accomplishment.
Likewise, without a simple but solid mental framework to draw upon you will never be able to devise more than the most rudimentary tracking solutions for your ad campaigns.
If you're thinking, what a minute here, we're just talking about creating tracking solutions with a piece of software that is supposedly already designed to do the job, so why all this lofty talk about frameworks?
It's simple. Because it is important. It is
no accident
that the innovations you'll find in this series were ones that I came up with myself to solve problems that nobody else was talking about. I could not have done that without a framework that allows me to see connections where most other Prosper 202 users see dead ends.
For example, in Volume #1 you will learn how I view Prosper 202 as a "redirection device" that allows me to think about tracking solutions in terms of simple
input and output channels
for URLs...
Yes, you can track without a framework. But you will be restricted to setting up tracking solutions that have been worked out by others, and they will rarely meet your exact needs.
If you are serious about your intention to
fully master Prosper 202
so as to be able to create your own tracking "works of art" you'll need a framework, and in Volume #1 of "Advanced Tracking With Prosper 202" I'll provide you with mine.
With the foundations in place it's then on to what I consider to be an essential component of all serious long-term tracking solutions...
In Volume #2 - Tracking Email Communications - You will learn how to track prospects for indefinite durations and accurately measure your LIFETIME EARNINGS PER LEAD for the first time!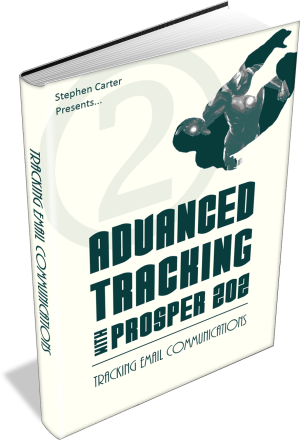 As a marketer you will hear the mantra repeated endlessly. The money is in the list. The money is in the list...
But just
how much money
, and
where exactly
is it coming from?
These are the two questions the second volume of the series sets out to answer. If you are not already collecting leads onto a list before you send them to an offer, by the time you have finished this volume you will understand why you need to be doing so.
Even if you do fully appreciate the value of list building it is unlikely that anyone has explained to you
how to leverage your list
to the fullest possible extent by capitalizing on knowledge of your
lifetime lead value
.
The concept is simple enough. If you are paying less for the traffic produced by your ad campaign than the amount of revenue it produces, you are profiting and you can
scale your campaign
. But exactly how much revenue ARE you generating for each lead that goes through your funnel?
Most marketers are familiar with the concept of "earnings per click". But they are much less sure about how to go about measuring it.
It's not enough to follow your lead through the top layer of your funnel.
If you are capturing them onto a list you really need to be able to KEEP tracking them for the entire duration they remain in the funnel - whether that be weeks, months, or even years.
You need to be able to
keep a running tally
of every dollar they send your way as a result of commissions earned from your promotions. This is how you measure their lifetime worth to you. But how do you do it in practice? How do you track them for an extended period of time?
Well, if a picture is worth a thousand words, then you can do it like this...
| | | |
| --- | --- | --- |
| | | |
| | "HOW TO MEASURE LIFETIME WORTH" | |
| | | |
Actually the schematic above is somewhat simplified, but it does paint the important elements in the setup, and as you can see Prosper 202 sits at the middle of it managing the whole affair.
The idea is to set up one campaign to record accumulated commissions (the Lifetime Sales campaign). Then a second campaign is established to record sales that come in as the result of follow up email promotions (the Follow Up campaign).
By configuring Prosper 202 correctly and using slightly modified versions of the conversion scripts (which I provide you with) it is possible to have the follow up campaign increment the lifetime campaign each time the lead spends money.
This is how we are able to
accurately measure
the
lifetime worth of a lead
. Volume #2 deciphers the schematic shown above and teaches you how to build the exact same functionality into your Prosper 202 campaigns.
Not only that, but you will also be able to determine
which messages and product promotions
were responsible for sales. That way you can figure out what is working and what is not in your message sequences.
If you talk to anyone else knowledgeable in the workings of Prosper 202 you would most likely be told that the funnel above is just not possible using Prosper 202. It simply does not handle complex scenarios.
But that's baloney!
You can build solutions to
track anything
if you are creative enough about it, and you'll see more proof of that in Volumes #3 and #4.
Let's talk about one of those now. You'll love this next volume if you have ever built landing pages and wondered if there was anything more you could be doing to improve your click-through and conversion rates...
In Volume #3 - Tracking For Landing Pages - You'll discover how to track landing pages in series and in parallel (page rotation). I even show you how to implement powerful Taguchi split-testing!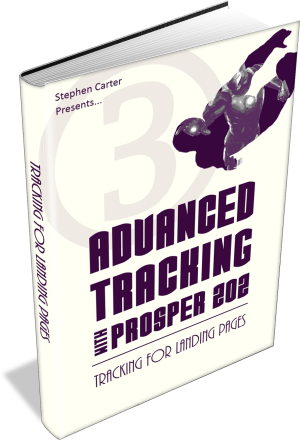 Before you can even think about
scaling up a campaign
to bring in the big money you need to maximize its profitability.
That means testing and optimizing every element of your campaign.
This is especially true of your landing pages, the performance of which will decide whether or not the prospect will even see the offer or place themselves inside your auto responder funnel.
The good news is that setting up the tracking in Prosper 202 for campaigns with a single landing page is fairly easy.
But what if the prospect needs to visit TWO landing pages, one after the other, before you send them off to the offer? What if you needed to insert an opt-in page between the landing page and the offer?
Or maybe the situation calls for EIGHT landing pages in the sequence?
If you needed to do it, would you know how to track the click through rates of
every intermediate page
for these types of multi-page sequences?
Probably not, right?
But that's OK because you WILL know by the time you get through with my landing page training.
In Volume #3 you get to see how tracking solutions can be set up for a variety of landing page models. Including those that feature alternate variations of a landing page which need to be
split-tested
to find page elements with the highest click-through and conversion rates.
Now we are talking about
landing page rotation
.
But wait. Prosper 202 doesn't support landing page rotation. Or does it?
I'll show you a couple of different ways you can tackle this problem. That includes providing you with PHP-based rotation scripts that don't just pivot on the number of visitors sent to your landing page, but the number from a
specific demographic group
.
Once you have mastered landing page rotation the possibilities for creating
complex customized
tracking solutions really open up. When we get to Volume #4 you will find a sosphisticated tracking solution that is built around no less than FOUR rotation scripts.
But before moving on from the subject of landing page tracking for funnels with multiple pages we stop and learn how to track multiple elements on a SINGLE landing page.
Not by using simple A/B split-testing, but by immersing ourselves into the world of
Taguchi landing page optimization
.
This is where you discover how to improve your conversion rates using the kind of split-testing algorithms usually reserved exclusively for clients of multi-million dollar ad agencies.
Orthogonal arrays, like the K9 array shown here, and multi-factorial test design philosophy - you get all it, including the
testing and analysis scripts
needed to put the ideas into practice.
Yes, Volume #3 will likely completely change your conception of what is possible with landing pages. At least until you close its pages and discover what is next in store for you. That's because...
In Volume #4 - The Ultimate CPA Strategy - You'll discover how to build, track, and optimize the funnel that top CPA marketers are using to bank 5 TIMES more than you are doing...

Finally, the "black cover" volume. This is where all the theory you were exposed to in the earlier volumes comes together in a practical lesson on the art of super affiliate funnel design.

Practical and highly profitable.

No doubt you remember my friend Mr. H. He's the guy I stole the ultimate CPA strategy from.

Well, maybe "stole" is too strong a word. I took the strategy he was using to extract 5-10 times more revenue from his CPA leads than is possible with simple landing page or direct linking methods, and I did something with it that no one else had been able to do.

I enhanced it and made it super cheap to implement.

Before that you either had to purchase expensive tracking software like CPVLab and learn how to apply it to the funnel, or you hired a technical wiz like me to implement it all for you. Either way, it was expensive.

Now you can do it all using just Prosper 202 - which doesn't cost a dime - and the step-by-step blueprint on how to build and track the ultimate CPA funnel that I have laid out in Volume #4.

I know what you must be wondering. You want to know what the heck the ultimate CPA strategy LOOKS LIKE, right?

Well, here's a sneak peek at the funnel for those who need just a little something to go on. Sorry, had to blur out the details so as to be fair on the people do who decide to take this strategy and implement it :) Can you guess what's going on there?

The funnel - or at least the front end of it, which is what is shown above - is essentially nothing more than a 4-page sequence that captures the lead onto a list so that they can be marketed to in the future even if they end up buying nothing right away.

Yes, there's a bit of marketing psychology thrown in there as well to increase the uptake, but it's rather straight forward.

The only real complication, as you can probably guess, is that several page rotators have been added to the mix.

While most CPA marketers are focused on throwing up a single landing page and tracking the profitability of the keywords that trigger clicks on their ads and landing page link-to-vendor, for the CPA super affiliate that's just the beginning of the process. That's because... The secret to SMASHING your CPA competition is to not just track and optimize your ad campaigns. You must optimize your FUNNEL too. That means split-testing as many of the pages in your funnel as you can to figure out the optimal path along which you should lead your prospects. Once you know the answer, you switch off the rotators and watch your CPA return on investment shoot through the roof.

This is how Mr. H has consistently been able to earn 5 TIMES or more what other CPA players in his niches have been able to achieve.

It's a strategy that you can use ANYWHERE that you would like to promote affiliate offers. They do not HAVE to be cost per action offers. It's just that CPA offers work particularly well with this funnel.

Of course, the thought of having to set up rotators and add tracking code so as to be able to compare the performance of one landing page against another sends most CPA marketers running for the hills.

But if you truly want to be able to play at the level that Mr. H plays, where the BIG MONEY paydays occur virtually every day, then you are going to have to outthink, outbid, and outtrack your competition.

And that is where I have you fully covered.

Because in addition to the detailed instructions for how to set up the funnel shown above, I am also providing you with all the scripts that are needed to put it together.

This includes the various rotators (all of them entirely optional) that are needed to cycle your landing pages so that they can be split-tested and the funnel optimized for maximum performance.

And there is the back end of the funnel. This is essentially the SAME auto responder system and tracking solution that was introduced in Volume #2. The ultimate CPA strategy combines both front end and back end funnels - all completely tracked with Prosper 202 to deliver the optimum profitability on your campaigns.

You simply will not find this stuff taught anywhere else. It is exclusive to "Advanced Tracking With Prosper 202".

But before I tell you how you can get your hands on my four-volume series so that you can begin to track like a true professional using Prosper 202, there is one thing I need to address first... * * * THE DREADED DISCLAIMER * * *
This is the part where I suddenly put up my hand and yell "But wait! Maybe this is not for YOU." Now you have to be thinking to yourself "Whoa. What's he doing? I was just about to look for the BUY BUTTON and now he's putting on the brakes? What's that about?"

Look, the truth is I absolutely want you as a customer. But not if you are going to get upset that my products aren't like most other internet marketing products.

I don't knock a product out in a day, or a week, or even a month. These things take longer. I get caught up in the complexities of the subject matter. I explore it. I look for answers to questions that maybe nobody else is asking - and that's how a set of tutorial notes on how to exploit a free tracking application turns into four ebooks.

If you are my ideal customer this won't bother you. If you are the type that hates having to think about the nuances, or how a solution to a problem is pulled off with a page of PHP code, it will.

I also take liberties in my writing. I blame Spiderman and The Incredible Hulk for much of it. I grew up in New Zealand, and as a kid in the 1970s I looked forward each week to being able to get my hands on a copy of the latest Marvel comic. There was only ONE - "The Mighty World Of Marvel"

The comic was imported from the U.K., and except for the front cover, the stories were rendered in pages of plain black and white illustration.

The missing color did not matter one bit. The arrival of that comic was the event of the week.

What DID matter was that they never imported enough copies. They sold out the day they got in, usually within hours of appearing on the store shelf.

More often than not I had to listen to the cool kids who beat me to the stand retell THEIR version of how The Incredible Hulk was smashing his enemies that week.

I think those years marred me for life. I eventually disavowed all fiction and turned to a life of science.

But then a flickering ember of the past must have re-ignited my love affair with fiction because one day I started producing it. So when you plunge into "Advanced Tracking With Prosper 202" and discover that it is in fact a strange blend of fiction and fact you will have at least some inkling of what is going on.

What kind of story have I weaved into the marketing narrative? Well, all I can say is that I have really enjoyed the recent Iron Man movies ...
By the way, wouldn't it be interesting to know just WHY it is that The Mandarin is so down on Tony Stark and Pepper Potts? Gee, if there was only some kind of prequel...

Trust me, this product could have been a whole lot less exciting if I did not feel forced to entertain myself during the months it took to put it all together :)

But I had to warn you.

Just in case you are the type that is hoping "Advanced Tracking With Prosper 202" is a simple 50-page guide that contains easily-implemented tracking tricks of the trade that will make you money overnight.

It doesn't. And it's not short - the four volumes comprise more than 300 pages of material. And it's told in story form. So if quantity and depth of material, and a little creative writing, frightens you, this is not for you.

This is not content for newbies or marketers looking for the latest "I did this and then got that result" type discovery of the month. This is EVERGREEN material, the real deal, for marketers who are looking to be in the game for the long haul and who need to know what it takes to rake in the BIG money by performing REAL analysis on campaigns.

So this product is NOT for everyone.

In fact if you have read everything on this page to this point and you are still unsure, then this is not for you.

How do I know? Because if you are a marketer and you ARE ready for this kind of marketing shortcut then you will already have recognized the opportunity for what it is and you will have made your mind up by now - in which case...
Let's SUMMARIZE everything you'll get today when you secure your own copy of my 4-VOLUME series "Advanced Tracking With Prosper 202"
By the way, you can purchase these volumes individually if needed. However I strongly recommend securing the entire series as they were designed to be read sequentially and later volumes borrow from the developed in the earlier ones.

Also, there is a story arc that begins in Volume #1 and ends in Volume #4. So to help you decide to grab all four volumes today I'll be providing a special discount on the complete package option.

By the way, and I probably don't need to say this - especially if you have spent any time looking for quality instructional material on how to exploit Prosper 202 to its fullest extent - but there is absolutely nothing on the market that comes even remotely close to offering what you will find inside "Advanced Tracking With Prosper 202".

I don't think there ever will be, and I am sure that once you have gone through the series you'll understand why that is.

Anyway, here's a quick recap of what's in store for you...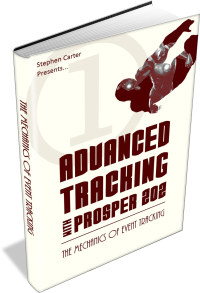 This is the mental framework book.
For users new to Prosper 202 the application is something of a paradox. On the one hand it is
deceptively simple
, but at the same time it can seem
rather mysterious
.
In this introductory volume the reader is exposed to the ONLY two things you can do directly with the software - set up a "direct linking" campaign, or set up a "landing page" campaign.
Most users will settle for a basic understanding of these two options. But the key to becoming a
tracking master
is to look a little deeper into the actual mechanics of the tracking event and how it relates to the behavior of the two basic campaign types. This provides clues as to how more involved campaigns might be set up by connecting one campaign to another.
Here's just some of what you can expect from Volume #1:
Discover the true nature of the subid. You've always known that it is at the heart of all tracking solutions. Now you'll understand just why it is that subid mastery is the key to tracking success.
Learn the REAL difference between conversion pixels and postback URLs, and why using one of them is so much more reliable than using the other...
If you've found the campaign management tabs in Prosper 202 confusing and you've wondered about the nature of their numbering, you can finally relax. I'll give you the full story once and for all.
Have you noticed that some of the names of the campaign editing variables are misleading? I'll tell you what they SHOULD be called so as to have you see new campaign possibilities that otherwise might never have occurred to you...
If you hope to be able to promote high-ticket items one day you'll want to know about the surprise cut-off in payouts that no one has warned you about. Until now.
To really optimize your campaigns you'll need to understand the exact advantages that a "direct linking" campaign has over a "landing page" campaign, and vice versa. I'll spell it out for you in full.
True mastery of Prosper 202 requires a deep understanding of the difference between the "c" tracking variables and the "keyword" tracking variable. I'll bring you up to speed on this important topic.
Discover why is it useful to be able to view Prosper 202 as a kind of "black box" with input and output channels that can potentially be connected to create unexpectedly pliable tracking solutions.
Finally, I'll introduce a strategy that involves harnessing the "c" variables to achieve intricate tracking solutions by connecting one campaign to the next... and set the stage for the solutions presented in the coming volumes.
In addition to establishing our tracking framework, Volume #1 begins a series of tutorial campaigns that demonstrate how our approach to tracking dictates the shape of our campaigns. You also get all the
supporting scripts and pages
needed to set up the demo campaigns and run them on your server.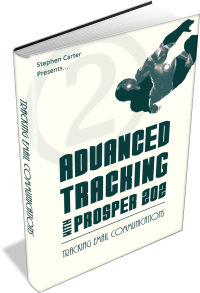 The money, they say, is in the list. But how do you get it out?
The ability to connect with your subscribers is of paramount importance. But how do you know when you are succeeding?
In this second volume we look at what it takes to
track several essential email metrics
so that you can increase your return on investment.
Two of the most important metrics are typically ignored by marketers because they have no idea how to determine them.
These are the
LIFETIME VALUE OF A LEAD
and the
PER MESSAGE PROFITABILITY
of both broadcast and auto responder follow up messages.
The good news is that both can be tracked quite ACCURATELY using the novel Prosper 202 tracking campaigns introduced in this volume.
You can also expect the following points to be covered in Volume #2:
Most marketers obssess over email open rates and click-through rates. I'll show you why these metrics are both unreliable and irrelevant.
Most marketers have NO idea how to go about measuring the lifetime value of their leads. By the time you are done with this volume you will.
How do you go about optimizing an email auto responder sequence if you don't know which messages are making you money? The answer is that you can't. So I'll show you how to fix that problem.
Have you ever set up an auto responder list to promote ClickBank products? I'll show you how to track conversions for every product and measure both the lifetime value of your subscribers and the per message profitability of your email sequence.
The secret to tracking ClickBank conversions reliably with Prosper 202 is to use the postback mechanism and couple it to ClickBank's instant notification API. But you'll need a script to complete the loop, so I've created one for you...
To measure lifetime value you will need to know how to pass subids through to your auto responder service so you can extract them at a later date. But don't worry, I'll teach you how to do that too.
As it turns out, Prosper 202's two conversion scripts cannot track lifetime campaigns. So I will be providing you with enhanced versions of these scripts that WILL do the job.
To fully track auto responder funnels you will need 3 campaigns - a lifetime sales campaign, an opt-in campaign, and a follow up campaign. I'll show you how to set up each and then connect them to one another with the lifetime sales subid.
Are there any limitations to setting up the campaigns in this volume? As it turns out, there are. I'll tell you what to look out for so that you can track your email campaigns with confidence.
As in Volume #1 you will also be provided with example campaigns so that you can see how the ideas in the current volume all come together.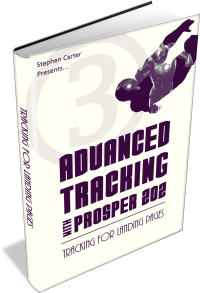 Landing pages play
an integral part
of most marketing campaigns, and tracking the performance of a single landing page is usually not so difficult. But what about two or more pages in sequence?
And how do you track landing pages in parallel - which is to say, how do you
simultaneously split-test
pages against each other and track their individual performance?
All of these questions are addressed in this third volume, and answered from the perspective of a Prosper 202 user. Additionally, a
powerful Taguchi
(multi-factorial) approach to split-testing landing page designs is introduced, complete with functional examples and code to analyze the results.
Here's just some of what you'll discover inside this volume:
Sometimes a single landing page just isn't enough. You need two or more sequential pages to get the job done. On the other hand, more pages means lower overall click-through and opt-in rates... So you should always avoid multi-page campaigns, right? Actually no, and I tell you why.
Quiz: When is the Prosper 202 "Affiliate URL" not an affiliate URL? Answer: Practically every time you use it to construct multi-page landing page sequences. You'll see why in virtually every campaign discussed in this volume.
Quiz: How do you put together a multi-page landing page campaign? Answer: From back to front. I'll show you how to literally "reverse engineer" your campaigns to get from where you want to go, to where you need to begin...
Have you ever used the Prosper 202 landing page rotator to split-test alternate pages in a campaign? What's that you say? Prosper 202 does not have a landing page rotator? Well then, I think you are going to be surprised when we start making use of it on page 46.
Sooner or later you are going to be faced with the need to construct your own custom landing page rotator. I'll show you how I do it and provide you with all the code required to pull it off...
There is more to landing page optimization that measuring click-through rates. You'll learn how to split-test landing page profitability for differing ads and prospect demographics using the "c" variables to track all the important parameters in your campaigns.
Need to optimize the conversion for a single landing page? I'll show you how to roll out the Taguchi big gun and effectively test thousands of combinations of page elements with just a handful of actual tests. It's almost like magic.
Taguchi landing page optimization is shrouded in secrecy. If not for the discovery of a forgotten spreadsheet that is nothing less than a treasure map I would never have been able to perform Taguchi testing, let alone teach it. But in this volume you get it all - including the spreadsheet!
But what use would Taguchi be if the analysis was too difficult to perform? That's why I am giving you a Taguchi landing page test analyzer so that you can paste in the numbers, hit the "analyse" button, and get an instant prediction of the combination of page factor options that will yield the best conversion.
In addition to the scripts provided to run the demo campaigns for this volume you'll also get all of the auxiliary
Taguchi arrays
and the page element rotation script and landing page template needed to test it all.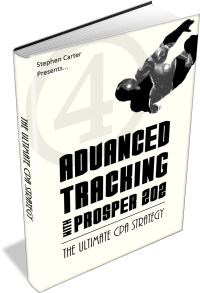 This volume is all about putting theory into practice.

In fact, I knew I had the perfect model to apply the ideas from this series when I discovered that a select few are absolutely killing it with their CPA campaigns because they know the secret to extracting

FIVE TIMES or more the return

for the SAME amount of traffic that you are driving.

In this final volume I give you the same surefire strategy these "CPA rain makers" are using to

SCALE UP their campaigns

and

SMASH their competition

like a bug.

By the time you have mastered the ultimate CPA strategy you'll know how to set up your campaigns the RIGHT WAY so that you too can share in the

CPA money train

.

What will you discover inside this volume?

Seriously. The content of this volume is simply

too valuable

to share on this page. It is for the same reason that a pane of "frosted glass" appears over the schematic shown above for "The Ultimate CPA Strategy".

So grab your copy and meet me inside where I can fill you in on the details.

And of course I'll also

wrap up the storyline

begun in Volume #1. Dare I say it? You'll never guess how it all ends...

All right. Given that you've read to this point and you are still paying attention I'm guessing you may just want to get your hands on this veritable tracking opus that I have taken the trouble to put together.

So if that's the case...
Here's how to get YOUR copy of "Advanced Tracking With Prosper 202" and take advantage of my special REVIEWER PRICING OFFER
If you are a serious marketer and you settle for purchasing just one of Volumes #2, #3, or #4 (Volume #1 is included no matter what you elect to purchase) I know you'll be kicking yourself at the end of day. That's because you will end up feeling as though you are missing out on the complete story. And of course you will be...

So to help you decide to grab all FOUR volumes of my series I am going to offer you a special discount.

But there is a small catch.

In exchange for the discount I want you to promise to return and leave a review of the series.

Why am I doing this? Because while I believe that I have created a high-quality product, what really matters - especially to others who may visit this page - is YOUR opinion. I'd like you to SHARE your thoughts. That will help me, and it will help others too.

Alternatively, by purchasing one or more INDIVIDUAL volumes, you can free yourself from the obligation of having to spend a few minutes telling others what you thought of "Advanced Tracking With Prosper 202". Plumb crazy approach if you ask me, but I won't stop you :)
Stephen, Enough! You Had Me The Moment You Said You Were A Prosper 202 Expert. Dude, I'm Ready. Give Me ALL 4 Volumes Of "Advanced Tracking With Prosper 202" Now!

Now you're talking. Just be sure you take the time to understand the options you have for making your purchase, as spelled out below.

* Note: Each volume of the series is provided as a ZIP file containing an ebook in PDF format plus additional supporting files. All files are made available for download immediately upon purchase.

* NOTE: THIS PRODUCT IS NO LONGER AVAILABLE *
Also, please note that your purchase is fully covered by my...
60 DAYS IRON CLAD FULL REFUND POLICY

I am so confident that this product belongs in your internet marketing library that I am offering you 60 full days refund guarantee.

The bottom line is that I have tried hard to over deliver on this product, and I think when it's in your hands you'll agree that I'm almost fanatical in my dedication to quality, because I know that's what it takes to make my customers happy.

Either way, because I use ClickBank to process orders, and because it is their policy, the refund guarantee is good for a full 60 days.

Read "Advanced Tracking With Prosper 202" and its companion volumes, and if you are not of the opinion that this represents the best instructional product on the art of building fully trackable, highly-optimizable, and ultimately profitable marketing funnels then I will refund you in full.

OK, that's it. If you can see the value in being able to track your campaigns and even build the kind of CPA funnels that will help you to earn up to 5 TIMES or more what your competitors are managing, then look for the order button above.

Cheers,


- Stephen Carter
DISCLAIMER
This site and the products and services offered on this site are not associated, affiliated, endorsed, or sponsored by tracking202.com, nor have they been reviewed tested or certified by tracking202.com